«You are splendid, long live Sicily» Siciliafan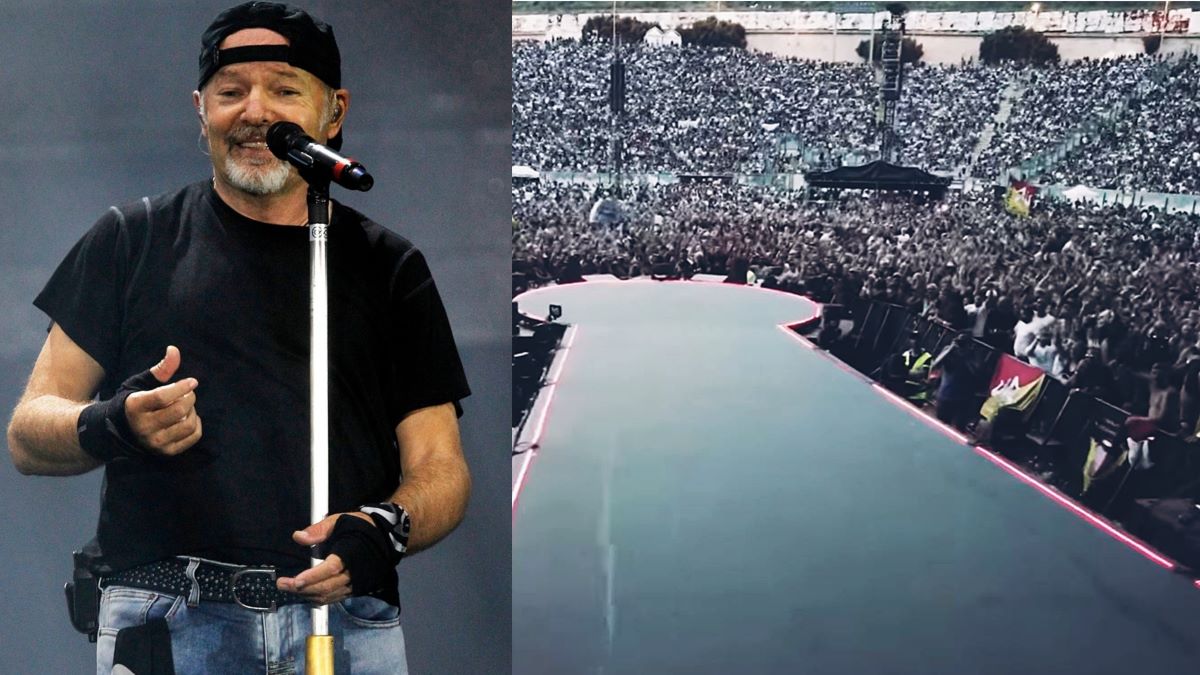 #splendid #long #live #Sicily #Siciliafan
Vasco Rossi in concert in Messinathe tour stop on the Island filled him San Filippo Stadium with 41 thousand people.
A real music festival, full of emotions.
A joy above all for Vasco, who did not hide his affection for Sicily: "It is worth it to come and visit you, you are splendid»He wrote on social media.
Vasco Rossi's concert in Messina
The 2022 marked the return of the great live music and even on our island, stages and large locations have begun to fill up again, with the most representative names on the national and international scene.
The June 17 it was the turn of Italian rocker par excellence, returned after a long absence.
The Vasco Rossi concert in Messina was highly anticipated.
In the days before the singer had told some anecdotes about his past experiences in our land, recalling that he held his first live here in 1983, in Letojanni.
"How much I love Sicily …
what a pleasure – wrote Vasco -.
It was my first vacation with Marco Gherardi, my childhood friend, we were 20 years old.
We left from Zocca for Sicily.
The flavors, the aromas, the women… We had to stay there for about twenty days, but the money ran out immediately and after 4 days we returned home ».
That vacation was just the beginning of a beautiful love between him and the Trinacria: «In Taormina in 2001 Salvetti invited me to Festivalbar, while I was on tour, and I went there, in between dates… that day I was off, it was the time of We Are Alone.
What a crazy mess …
how many beautiful people.
I fell in love every five minutes and never wanted to leave.
It was almost impossible to leave Taormina in the middle of the party ».
A few years earlier, Vasco Rossi had already been to Palermo: «In 1996 I inaugurated the Paolo Borsellino velodrome in the Zen district, he and Giovanni Falcone are heroes.
Always "against all mafias" ».
It's been a while, until our 2022, but the beautiful feeling that binds Vasco to Sicily.
On the occasion of the concert in Messina on June 17thhe said: "What I wouldn't give to live on an island! I'm happy, I took my show to Sicily too, a goal… Cross the sea with this stage… .E it is worth it to come and visit you, you are splendid.
Long live the Sicily".
The evening was a huge event for the city ​​of the Straitwith a complex organization, for the management of the 41 thousand who filled the San Filippo Stadium.
There band that accompanied Vasco it has been extended to 11 elements, with a wind section: to Stef Burns and Vince Pastano guitars; on bass Andrea Torresani (the historic bassist Claudio "il Gallo" Golinelli only guest); keyboardists Alberto Rocchetti, Frank Nemola and Beatrice Antolini; drummer Matt Laug and the absolute novelty of the wind section with Andrea Ferrario on sax, Tiziano Bianchi on trumpet and Roberto Solimando on trombone.
In the lineup all the great hits: 30 pieces, which the public knows by heart, which the public sang in unison.
"Some say no", "The shots above", "Rewind", "Disappointed", "Sally", "Reckless life", "Toffee", "Albachiara": an excursus along a career made of successes.
Almost 350 buses arrived from all over Southern Italy.
"You are a wonderful land and people", he said Vasco Rossi during his concert in Messina.
And Sicily has reciprocated with all the affection it can give.
Photo by Alessandroboraso – Own work, CC BY-SA 4.0.
Related articles
Sicilian news 2022-06-20 09:56:00