news
Violence women: police initiative in Palermo University PALERMO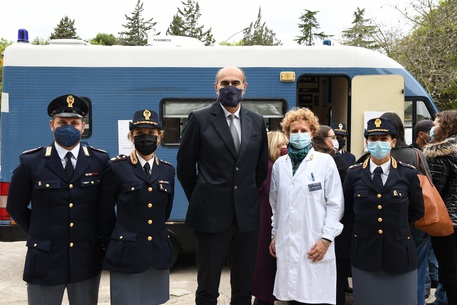 Actuality
Violence women: police initiative in Palermo University
PALERMO, 25 NOV In the Faculty of Economics in Palermo, on the occasion of the International Day for the Elimination of Violence against Women, the initiative "A red scarf, no to violence against women", conference organized by the University of Palermo and the Palermo Police Headquarters. The mobile station of the State Police, the Camper of the awareness campaign "This is not love", with a team of specialized operators of the Police Headquarters inside, has stationed in the space facing the Faculty of Economics, offering students and anyone who hears need, the possibility of discussing, even in a confidential manner, with the members of the multidisciplinary team and reporting any situations of discomfort or episodes of violence of which they were witnesses or victims.
The Quaestor, Leopoldo Laricchia, spoke at the conference held in the university hall, underlining the tireless commitment of the State Police in relation, also, to the lines of action on crimes such as stalking and mistreatment; preventive measures such as "the warning from the Quaestor"; and the attention of the police forces towards the abusive man.
The police in the 1999 has opened a special section within the Flying Squad, the existence of a protocol, called "Eva". Another room dedicated to welcoming vulnerable victims is being set up and will soon be inaugurated within the "Cefalù" police station.
While "La Stanza di Aurora" has already been active for a year, inaugurated inside the Police Headquarters, in the premises of the anti-crime division, on Valentine's Day and La Stanza Rosa "inaugurated within at the "Oretostazione" Commissioner. The camper of the "This is not Love" project, with the multidisciplinary team, will be present tomorrow from 9 at the "G. D'Alessandro "of Bagheria; on 29 November, at the State Comprehensive Institute" Calderone Carini Torretta "of Carini; on 3 December at the "MantegnaBonanno" State Comprehensive Institute of Boccadifalco. (ANSA).