Notizie
Valentina Marino: a Sicilian on the streets of jazz in Manhattan
"I have memories and I travel like a gypsy in the night / … / it's just the place that changes, the rest is still the same" sings Alice Merton in No Roots. A song in which Valentina Marino reflects herself so much that she inserts it on the record recorded during the quarantine period, entitled, in fact, Quarantine Covers. «I feel like in that song: no roots, no roots. My home has never been on dry land. I have no particular attachments to a place, a city, a country. The origins are within us, not outside, in a geographical container. I don't feel the need. I know I'm different in this from many others. The roots are where our legs rest and support us, in the continuous change of the stories and cycles of life ».
From Sicily begins the journey of Valentina Marino, jazz singer, composer, arranger, musician at three hundred and sixty degrees who today lives in the shadow of the skyscrapers of the Big Apple. Mazara del Vallo, to be precise, is the port of departure. «I moved to Rome when I was literally in swaddling clothes. My parents worked in the capital, "he says. "I went back to Mazara to attend high school and I returned every summer." But it was in Rome that he trained as a pianist, initially classical, then jazz: «My father made me listen to Louis Armstrong». And it is in the capital that he graduated in law, fulfilling the wishes of his parents. "A piece of paper is always important in life."
«I am a singer and a songwriter. I am and have always been a musician, a music lover and a music addict "
With that "piece of paper" Valentina began a brilliant career as a lawyer in an international law firm with offices in Rome and Milan, before going on to deal with the legal issues of the Capitoline Confindustria. Meanwhile, he enrolled at the University of Music. "I have never felt a vocation for the lawyer, nor for life in offices or academic institutions. I could have followed that path originally taken to please my family, but then the cry within me exploded. And I rebelled. Against myself. For wedging myself into a bubble that kept me from being who I really am. I am a singer and songwriter. I am and have always been a musician, a music lover and a music addict ».
The bubble bursts while in London. "I worked in a law firm during the day and sang in the evening." The appeal of Swingin 'London is irresistible, so Valentina puts a degree and a prestigious job in the drawer, and dedicates herself to her true passion: music. This radical choice leads the Sicilian girl to change city again. After Rome and London, it is the turn of another capital: Vienna.
«My vocal coach in Vienna advised me to move to New York. Three weeks later I was in Manhattan. Alone, with my notebook and headphones, always taking notes, writing down dreams and visions "
«I found myself in Vienna for a series of coincidences and opportunities. Not by chance. You always find what you are looking for. And if you don't find it immediately, you keep looking ", he continues to reconstruct his journey. «In Vienna I started my first jazz projects and the first bands. I had the opportunity to collaborate with wonderful musicians and to perform in numerous clubs in Vienna and other cities of Austria. Austrians have an incredible fascination for jazz. And for the Italians. For me, it was the perfect match. In Vienna I met my vocal coach and mentor, Heidi Eiselberg, who suddenly told me one morning: "I think you have to move to New York, Vienna is too small and is the cradle of classical music. You need the Big Apple now. It's your time ". Three weeks later I was in Manhattan. Alone, with my notebook and headphones, always taking notes, jotting down dreams and visions, while listening to Ella, Abbey, Billy and Sarah, over and over on my iTunes jazz playlist ».
Her Austrian vocal coach was right: Valentina Marino finds her world in New York. Three months later he passed the audition at the New School for Jazz and Contemporary Music, obtaining the BFA (Bachelor of Fine Arts), a sort of degree course in vocal jazz performance. Thus begins a new chapter. Which has been going on for 11 years, during which the artist performs far and wide throughout the country and records several discs: "Jazz Canvas it was the first, then In the Name of Love, with the American record label Jazzheads, and the single The Peacocks, a timeless place, with the lyric masterpiece text by Norma Winstone. Another single to follow, Three little birds, my experimental homage to Bob Marley, in which I only use my voice, creating a looper effect that transforms the overlapping of the different vocal layers into a sort of small orchestra ».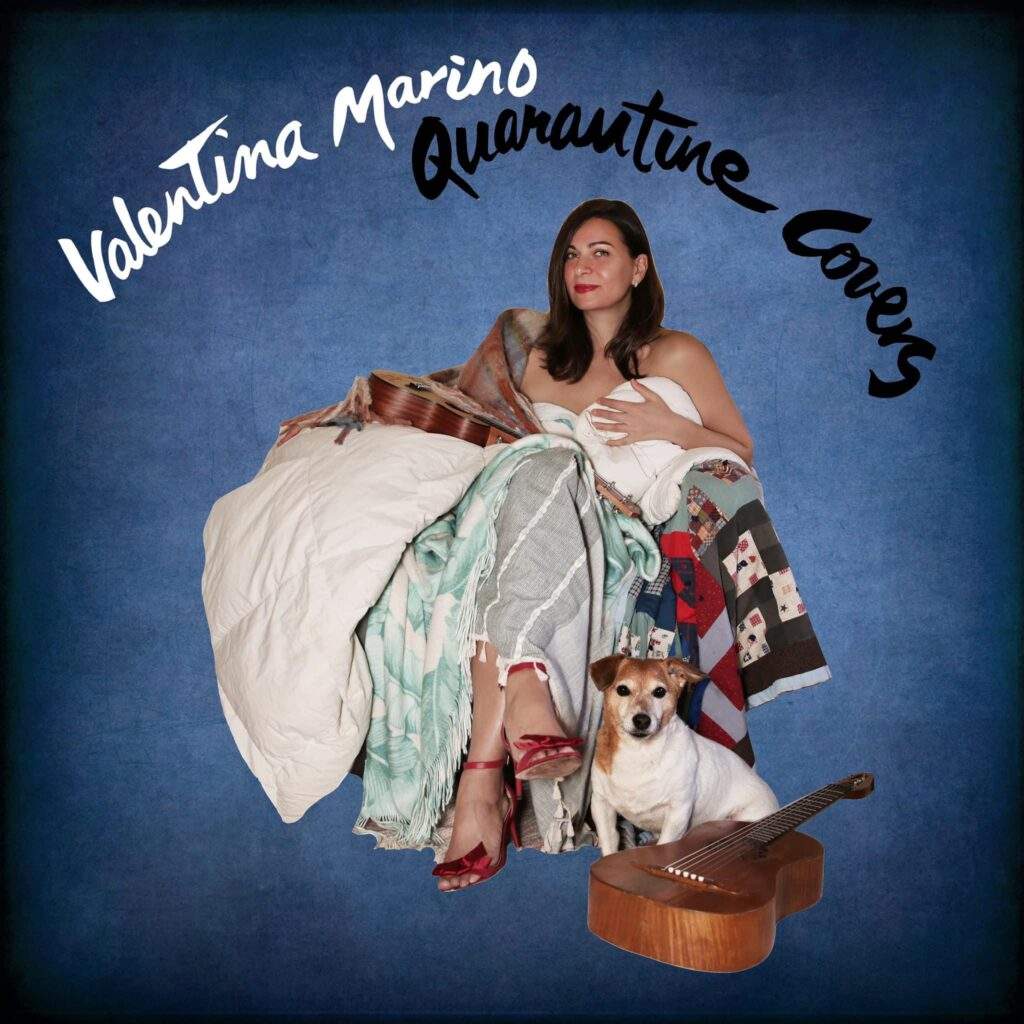 For Christmas he collected in the album Quarantine Covers all the songs of the heart that have kept her company on her travels and, in particular, in this period of seclusion due to the pandemic emergency. With a warm and velvety voice he faces Leonard Cohen, Bob Dylan, Joni Mitchell, authors he loved so much that he internalized and made his own songs like Dance Me to the End of Love, Gotta Serve Somebody, River, of which he offers thrilling interpretations. «The choices are oriented more towards the songwriting, folk and pop», explains the Mazara artist. «This album represents my transition from jazz to popular music. I wanted to create a sequence in the plot and tell love in its cycles of death and rebirth. Metaphorically, these are also the cycles of life in general and of this particular phase we are going through. My wish is that life can start again more pulsating and lively than before, after this terrible chapter of sadness and separations ».
From night gypsy to musical gypsy. From wandering in search of a promised land to traveling between styles and musical genres. Among which it can also happen to find a torrid country-blues version of the Baptist Time to die. Because, in the end, the origins are difficult to forget.
"During a recent evening, they asked me to sing in Sicilian and I improvised a swing version of Vitti 'na crozza. A song that has always excited me. See, even without roots, I'm Sicilian too … "
"During a recent wonderful evening spent in a loft in Tribeca, they asked me to sing in Sicilian and I improvised with the pianist an unedited version in swing of Vitti 'na crozza. A song that has always given me goosebumps as much as it excites me. Another piece that has always made me crazy for its irony is How much is the half air. You see, perhaps even if I have no roots, after all I am Sicilian too … Sicilianity is in me, in my personality, for some traits, those of stubbornness, determination, a fighting spirit and adaptation. I can say the same about my Romanity. But I don't feel rooted in Sicily, neither in Rome nor in any other place in the world ».
In New York maybe a little bit yes, if he hasn't dismantled his tent for eleven years. In the Big Apple he found what he did not find in Italy. In the city that never goes to sleep, the musical gypsy who never stands still, but is constantly on the move, has found her natural habitat. And, even in times of lockdown, he enjoys gathering the Italian jazz community around him for improvised, as much fun, "live streaming". Like the double bass player from Catania Marco Panascia, a true point of reference, or the Roman pianist Marco Di Gennaro. Sicily and Rome, coincidentally. And among jazz standards, even in these sessions it can happen to hear a piece by Natalino Otto. «Thursday at our Christmas streaming with Marco Panascia we could do How much is the half air. I was already suggesting that he put the double bass on a base to let me do some scat with Sasa sa 'si siì Sasa. Let's see what comes out ».
Meanwhile that notebook, in which he took notes, jotted down dreams and visions, has been filled up, and those notes, dreams and visions are about to be transferred to an album of unpublished works scheduled for 2021. " East 75th and contains ten original songs with lyrics and music composed by me », he announces. «From the covers to being completely 'uncovered', to tell about eleven years of life in an Upper East Side block».
Our commitment is to offer authoritative content free of invasive advertising. Are you a regular reader of the Sicilian Post? Support it!
Make a free donation

Would you rather do a transfer? Send us an email to request our bank details