News about Sicily
The Di Giovanni pizzeria closes: after 61 years Palermo "greets" its legendary crostino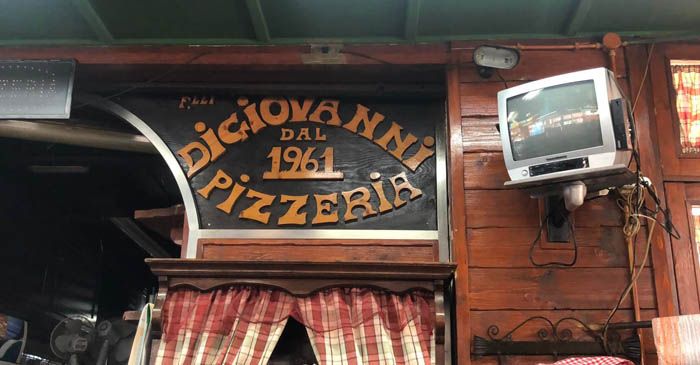 #Giovanni #pizzeria #closes #years #Palermo #greets #legendary #crostino
Another historic sign in Palermo leaves us.
The trattoria-pizzeria in via Leonardo da Vinci since 1961 has been a point of reference for generations of Palermitans
Another sign that has made the history of catering in Palermo sets.
After 61 years of activity, the Fratelli Di Giovanni pizzeria closes.
Via Leonardo Da Vinci was not just a place to find one of the best delis in the city, but a real "institution" of Palermo street food.
Its closure is the end of an era.
For generations of Palermitans it has been the reference point in enjoying the best of traditional food: pani c'a meusa, bread and panelle, broccoli, cardoons and artichokes in batter, sfincione, pizza, typical Palermo pasta, sardine meatballs and then …
"His Majesty, the Crostino".
As some of his long-time customers recall, "In Palermo all the rotisseries make croutons but, in my opinion, Totò Di Giovanni's is, and will always remain for me, the crouton !!!".
For the emigrants from Palermo, "una mangiata da Di Giovanni" was a must every time you returned to the city.
The father, a driver of the then Saia (now Amat), was the first to start the business, which was initially a cheap restaurant.
He mostly cooked small pizzas, arancini and bread with the spleen.
Of the nine children, Bartolo, Pino, Totò, Diego, Settimo and Ottavio continued in the restaurant business.
In particular, it was Totò who stayed in the historic venue in via Leonardo Da Vinci, becoming over the years a reference point for pizzas, pasta with sardines and – as mentioned above – the unsurpassed crostini.
"I can say that I have seen the rise of their businesses, because they grew up in the same neighborhood, the public housing in via Malaspina – says Pino Apprendi -.
Settimo was a football champion, a goalscorer and poor Riccardo, the youngest, was a DJ on a radio, Diego the magician.
Bartolo with his son Cristian, the Pipi Rum, Ottavio (Stng) the Carmen.
The evenings passed between the Oasi bar, the Sole bar, adjacent to the pizzeria equipped with a juke box and the pizzeria.
Closing Totò Di Giovanni closes one of the last historical signs of that district ».
The most loyal customers, as soon as they heard the news of the imminent closure, did not give up the last binge: "I could not, I did not want, give up the last" eaten "from what, after more than 50 years, I do not consider a supplier, but a friend, who saw a child before me and after my son, who today ate the last sandwich with Totò's spleen and the last croutons – writes Giuseppe Cucchiara in a post on social media -.
From tomorrow, Totò, Luciano and the others who worked here will enjoy the well-deserved rest.
And they will do so being able to be proud of having fed generations of Palermitans who, I'm sure, will miss them.
A hug to them, and may the croutons be with you ».