news
'Palermo, no vax hospitalized and tears: the hell of Covid'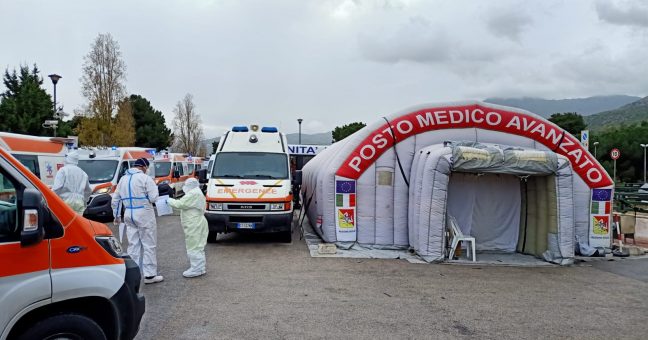 The human odyssey of a hospitalization at the 'Cervello'. Here is the diary that moved us.
We could call him Ishmael,
a cover name that is not his, to tell the hell of Covid, protecting privacy and safeguarding history. Ishmael, yes, like the sailor who embarks on the Pequod, Captain Ahab's whaler in search of Moby Dick, and manages to return to report what he saw.
There are many, for luckily, the Ishmaeles who return home and embrace those they love, thanks to the vaccine.
There are too many who do not protect themselves and sink into the maelstrom of a fatal error. Our protagonist is a reader of
LiveSicilia.it
who writes a diary for the journalist and tells of his losses and finally, of his composed happiness, after his resignation. A plot interwoven with days and emotions.
The opening words: "Today unfortunately I am positive for Covid (with third dose) and I am at the PS of the 'Brain' and I wrote two impressions during the hours of waiting while TV, newspapers and healthcare are raging outside… I have been positive for two hours at Covid, inside the pre-access tent of the 'Brain' in Palermo. A great cross-section of wounded humanity: A very young girl who cries, another who has a severe headache, a man with oxygen who does not speak, some patients who instead talk to each other to play down to the point of saying: 'I was alone at home here at least I talk to someone'. A lady complains of a severe headache. The head physician, Dr. Maniscalchi, like a caring mother, enters the tent and dispenses smiles and inquiries about the patients' state of health (I think she has been working continuously for days) ".
" Doctors and nurses heroes without glory or recognition indeed, always ready to risk for nothing but salary. But everyone takes that. The TVs outside film the scenes of a chaos that with a little political foresight could be, at least, mitigated. I am in the trenches of a war that will have no winners or losers but only dead, wounded and a period in which humanity will no longer be the same if only because this is the biggest, most serious pandemic that humanity will always remember. A thought crosses my mind… Each Titanic as it sinks has its own orchestra that continues to play the notes of an old Viennese waltz…. ".
Benevolently, vaccines and therapies play the big game. The resignation arrives and another page of the diary: "I was two days in hell as Proserpina, and I saw pain and suffering things that a friend who works in Covid intensive care at the same hospital had told me for two years".
"In two days I saw everything I talked to a girl about 30 years (the one crying in the tent), petite petite, with three doses of vaccine and initial pneumonia, a man from 83 years that he had made 5 vaccines as he said, 3 of Piper (laughs and cries) 1 of anti-flu and 1 of antipneumonia and that in any case despite Covid and age, thanks to Piper , came out on his legs, a no vax with lung cancer who did nothing but protest until the head physician was angry. With the no vax, in the room with me, I talked for a long time and I realized that these people, for the most part, are confused and very scared ".
" I tried for a long time to make her understand how important it could be for her to undergo my own therapy but after hours of struggle I am not successful and it is my regret. She voluntarily resigned and went away saying that her dignity was superior to anything and I angry but with extreme kindness in a desperate attempt to change her mind I replied that the epigraph would not be much … 'Here lies a dignified woman '… I'm fine, actually better and that's what counts for me but I can't just look at myself and I'm extremely sorry and annoyed ".
The conclusion: "I had a faint idea of what happens and has happened in hospitals but yesterday and the day before yesterday I saw with my eyes and also heard the people who suffer, I saw the difficulties of all health workers and their dedication, the smiles, the anger, the tenacity in wanting to cure at all costs, even those who deny that science ". The last line is an affectionate greeting that hides a bruised smile. Despite the storm and the monster's tail swings, Ishmael, once again, has returned home.

Get our latest news from Google News : click on FOLLOW US, then in the new screen click on the button with the star!
FOLLOW US