Oratorio di San Lorenzo – Palermo
Built in the second half of the 16th century by the Compagnia di San Francesco in San Lorenzo, established in 1564. It is accessed from an uncovered courtyard with a fountain, overlooked by the rectory. The oratory has a classroom with a rectangular chapel and of considerable value is the very rich stucco sculptural repertoire that adorns the walls made between 1699 and 1706 by Giacomo Serpotta, where scenes from the life of St. Francis are represented placed in the squares on the right side. of the building and, on the opposite wall, are those illustrating episodes from the life of San Lorenzo; all further embellished by a sequence of cherubs and friezes, which introduce a cheerful and lively note.
The three reliefs on the entrance wall are dedicated to the prayer and martyrdom of St. Lawrence and the stigmata of St. Francis. Eight large allegorical figures of Virtue are arranged along the longitudinal walls; two others, Charity and Hospitality, are placed on the sides of the arch that introduces the chapel, on which the figure of "S. Francis receiving the cord of the Order ". The altar, with a table in marble and gilded bronzes, was made from designs by Giacomo Amato; on the back wall, flanked by pilasters and concluded by a curvilinear tympanum, was the "Nativity" executed by Caravaggio in 1609 and stolen in 1969. The church retains valuable ebony wall seats inlaid with mother of pearl and other furnishings.
Until 1969, the year in which it was stolen, the high altar housed a valuable painting by Caravaggio, "The Nativity", from 1609. Recently the work returns to its place with a faithful reproduction, made in a single copy with techniques with very high technology able to make every detail of the original to perfection.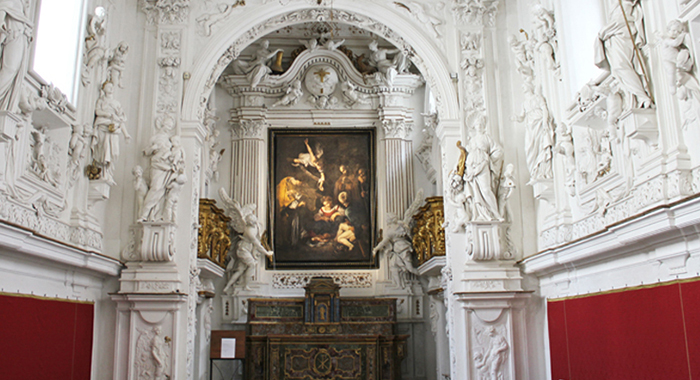 This post is also available in:
English