Open couple, indeed wide open – Villa Cianciafara – Messina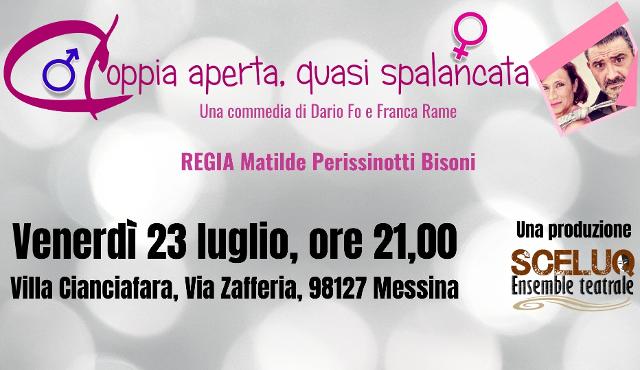 "To work, the open pair must be open on one side only, that of the male … otherwise there are drafts!"
Friday 23 July at 9.00 pm, at Villa Cianciafara in Messina (Via Zafferia) "Open couple, almost wide open", irreverent, brilliant and acute, the work of Dario Fo is Franca Rame, written in 1983. It is a classic Italian comedy, full of hilarious ideas as well as provocative and ironic contents. The direction is curated by Matilde Perissinotti Bisoni, former author of the direction of the assay of the Sceluq 2.0 experimental laboratory "Greetings from Bertha" of Tennessee Williams.
On stage: Sabrina Sciabà and Michele Careno, with the nice participation of Piero Pino. The show will take place in the evocative location of Villa Cianciafara, a historic residence from the late eighteenth century.
Event on Facebook
Info and Contacts
Share, comment, talk to your friends.
This post is also available in:
English