From the Teatro dei pupi Kemonia in Palermo, the streaming show " The exploits of Orlandino " – Teatro Kemonia – Palermo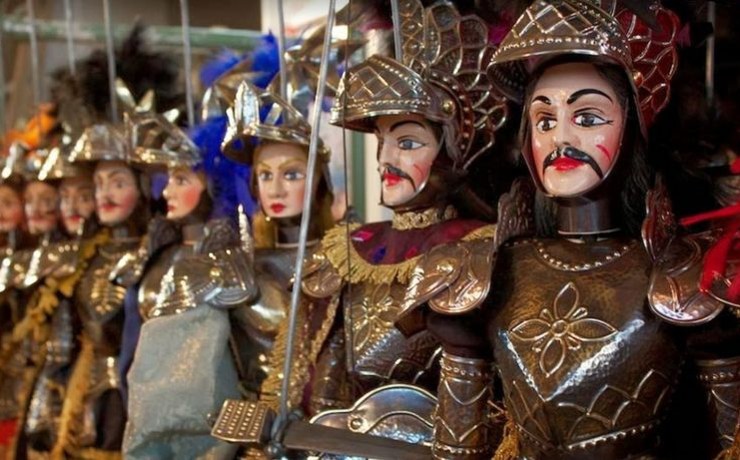 On Sunday 14 March at 6.00 pm, the Franco Cuticchio Son of Art Company returns to the stage, from the Kemonia puppet theater in Palermo, with the show "Le gesta di Orlandino". To watch the show CLICK HERE –
Plot – After being removed from the kingdom by the Emperor Charlemagne, the knight Milone D'Anglante and Berta, Carlo's sister, wander through unexplored lands and seas in the company of Galerana, a humble damsel. Once in a port, the three decide to embark. The captain, who at first shows himself helpful and kind, will soon turn out to be a pirate. He wants to rob the three travelers and, falling in love with Berta, he wants to take her for himself. During a terrible storm, the pirate seems to succeed in the bad intent: he distances Milone from his beloved and leaves him at the mercy of the waves doing so. After the storm and freed from the clutches of the pirate, Berta finally lands on the beach and sees Galisena, her maiden again. The vicissitudes and the state of motherhood exhaust Berta who can hardly stand up. She will be promptly helped by a shepherd who will host her in the cave where she lives. Years pass and little Orlandino, son of Berta and Milone, now considered missing, grows up healthy and strong just like his father. Performing noble deeds and successfully participates in a competition in the nearby town of Sutri. It is on that occasion that, inside the governor's palace, he meets his uncle, the Emperor Charlemagne who, with his mother and trusted Galisena, leads him to the lands of France where he will become a great knight.
There are two Opera dei Pupi companies from Palermo that will perform in this sixth weekend of Sicilian Puppets Series, the theatrical review of Opera dei pupi conceived by Antonio Pasqualino International Puppet Museum which, from February 5 to October 31 2021, offers a series of shows staged every weekend in live streaming from the permanent theaters of Opera dei pupi and from cultural sites throughout Sicily.
The program of the festival is rich, which includes 80 shows and 10 Opera dei pupi companies belonging to the "Italian network of organizations for the protection, promotion and enhancement of the Opera dei Pupi" which, after its formal establishment in 2018, have intensified their collaboration with the aim of undertaking shared actions to safeguard the Opera dei pupi.
This post is also available in:
English