Notizie
Designs inspired by the colors of Sicily in Valentina Ciadamidaro's scarves
Yellow, orange, Moor's heads and Sicilian puppets, but also myths and legends in Valentina Ciadamidaro's scarves. "In my creations – says Ciadamidaro – there is the soul of the Sicilian people"
Colorful fashion accessories that evoke the ancient legends of Sicily. The creative Valentina Ciadamidaro, from Catania, company secretary and with a passion for art and design. It was initially for fun that he started a production of fabrics, scarves and accessories, which then became something more.
Valentina Ciadamidaro: Sicilian tradition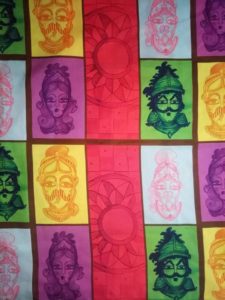 «I have always been fascinated by drawing and painting – explains Valentina Ciadamidaro – I have always drawn since I was a child, inspired by the comics my father read.
"I graduated from the state art school of Catania. A degree in Archeology followed. But I have never completely stopped cultivating my passion for
graphic design and for watercolor painting. The ancient that combines with the modern. It was the artist Giuseppe Piccione who encouraged me to believe and indulge my passion. So I came up with the idea of ​​creating art objects for everyday life, which were beautiful and functional, which expressed the essence of Sicilianity ".
"I start from hand-made drawings inspired by myths, legends, motifs of Sicilian culture and tradition – says Valentina Ciaramidaro –
They are graphic drawings or painted in watercolor, with bright, sunny and Mediterranean colors. Then I choose the fabrics, silk or polyester ".
«It was not easy, especially at the beginning – says the new entrepreneur – to reconcile the job of a secretary and that of a mother with the new business.
The attention to detail, the elegance of the designs that express the soul and Sicilian culture, the bright sunny and Mediterranean colors typical of handcrafted majolica, are the strengths of Valentina Ciadamidaro's scarves, perfect to meet the warm season with that brio and that lightness, of which we all feel an urgent need.