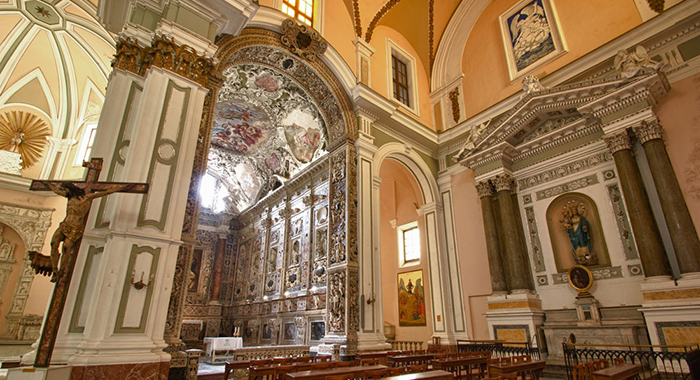 Built in 1586 on a pre-existing 14th century church dedicated to the Tuscan saint, S. Zita with adjoining hospital, which became a Dominican convent around the 15th century. Next to the small fourteenth-century church, a second church was erected in 1458; both were demolished for the construction of the current large ecclesial building, begun in 1586. The new church, built to a design by Giuseppe Giacalone in solemn late-Renaissance style, was opened in 1603.
After the Second World War, the building underwent significant demolitions, significantly changing its structure. In that period the church was adapted to other uses, including that of food storage and courtroom. Reopened after the war and dedicated to St. Mamiliano, the large central nave and the large transept remain, beyond which five chapels open, including the central chapel with a deep choir. Fortunately, splendid frescoes and interesting works of art created by illustrious artists, such as: Antonio Grano, Antonello Gagini, Filippo Paladini etc. have been preserved.
Of particular interest is the Chapel of Maria SS. Del Rosario, a splendid example of mixed marble decoration. The chapel, whose definition lasted from 1696 to 1722, is entirely covered with carved marble panels which contain the ten Mysteries of the Rosary, sculpted by Gioacchino Vitagliano; of exceptional workmanship is the frontal of the altar, with incrustations of semiprecious stones, and the floor, made up of variously worked sepulchral tombstones.