Catania thinks of houses for everyone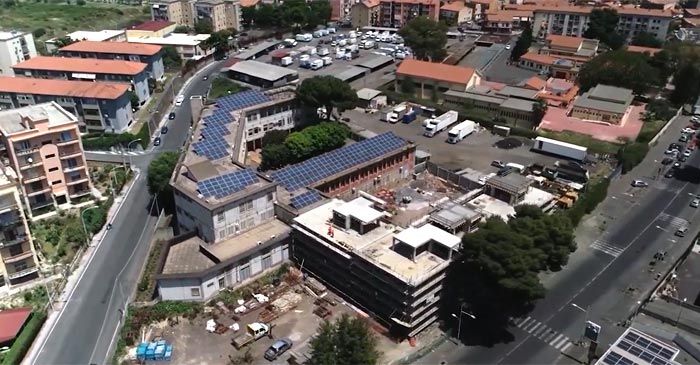 #Catania #thinks #houses
The house is a right and someone in the Etna capital understood it.
The first accommodations will be ready by December.
We present a new housing and social model for a sustainable community
The area of ​​3,447 square meters, in the popular district of Nesima where the housing is being built
Throughout Italy there has been discussion for some time on the need for redevelop degraded and desolate neighborhoods, but it is above all in the South that there is a high percentage of cities made up of areas that have started an unstoppable physical and social degradation.
Architects, engineers, politicians and citizens ask themselves, therefore, on how to start a quality of living and on what could be the possibilities and tools to intervene in these places and rebalance them, soliciting the strings of urban, architectural, social, economic quality, energy, cultural and environmental.
Also to Catania, as in many other cities in Southern Italy, there are evident neighborhoods and suburbs that present problems of urban and social hardship.
Most of the settlements in the city date back to the 1970s and today the limits of an excessively centered design approach to housing are evident, which has often neglected the presence of services, schools, adequate public transport, open public spaces and public facilities which, together with the residence, restore the quality of living.
Among the many news that speak of the current problems of the city, including the evident one of the waste emergency, our attention was drawn to a topic that instead seems positive and innovative, and which gives hope to a prospect of growth and social improvement.
in those neighborhoods that present many critical issues.
We refer to the project Social Housing Independence, recently presented in the city during the general assembly at the opening of Spazio Sicilia, curated by Omnia Consulting.
In this regard, we contacted the architect Martina Bellomonte, a consultant at Omnia Consulting srl as a social housing expert.
«With the Company – explains architect Bellomonte – we are involved in carrying out activities for the promotion and dissemination of social housing projects for the Iacp (autonomous public housing institutes) of Catania, Trapani, Caltanissetta and Ragusa.
As for the city of Catania, the Social Housing Indipendenza project aims to redevelop an area, with the demolition of an old building and the construction of 21 new and efficient dwellings and the creation of an equipped green area to be donated to citizens.
The intervention concerns a total area of ​​3,447 square meters, between Corso Indipendenza and via IV Novembre, in the popular district of Nesima and represents a mixture of buildings and public parks.
The project therefore involves the demolition of an existing structure and the reconstruction of a new building of 590 square meters to be used for social housing.
The green area is designed to promote social gathering, socio-educational and recreational activities that can be used by the inhabitants and will be donated to the city as a meeting place for the entire neighborhood.
In addition, it will have an equipped play area, a meeting area and also an amphitheater that can be used for recreational and recreational activities.
The whole operation is meant to give birth to one sustainable community.
The entire operation aims to give life to a sustainable community that also becomes energetic and with social sharing.
The structure, which will be self-sufficient from an energy point of view, will in fact be equipped with a photovoltaic system, a water boiler and an inverter air conditioning system.
The works have already begun and the accommodations will be delivered between December 2022 and January 2023 ".
The Social Housing Indipendenza project was carried out by the Iacp (Autonomous Institute of Popular Homes) of Catania, and the European funds of the PNRR, National Recovery and Resilience Plan, were used for the works.
Once the accommodations are ready, the IACP will provide for publish the announcement which will be "reserved" for those who experience a disadvantaged economic condition.
Certainly, the city of Catania needs new structures, green spaces, more innovative buildings, the recovery of abandoned or dilapidated spaces, especially in those disadvantaged urban areas, in order to improve the conditions of the people who live there and ensure them a better future.
There is a need for ideas, projects, collaborations, to remodel spaces to suit citizens, for transformations that create opportunities and enhancement of the artistic and cultural heritage.
Even today in cities there are people who do not have a home.
There are those who own it by inheritance, those who have managed to buy it with many sacrifices, thanks to work and then there are those who do not have the opportunity to buy one.
Having a home should be a right and not a luxury.
What does "home" mean? It means a place to find shelter from the bad weather and adversities of life, a place to feel safe.
It is a place to deposit and keep one's emotions, one's affections; where to build the memories that will accompany us for the rest of our life.
It is a place to meet, alone or in company, to reflect and discuss their daily experiences.
Home is that place where you want to feel good.
There are many and varied ways of choosing and living your home.
There are those who choose to live it on their own, to satisfy their need to isolate themselves.
Who to share a love with you and to build a family.
Those who, driven by a faith and an ideal, choose to live it in community.
Then there are those who have to choose it based on their financial resources, often having to resize their expectations.
Unfortunately there are also those who cannot choose, those who suddenly find themselves homeless and forced to accept any condition.
There are many people who live in this situation, more than we could imagine.
People who for one reason or another find themselves experiencing sudden discomfort or the result of unfavorable circumstances.
Think of women victims of violence oa men undergoing divorceall people who are forced to leave their homes, sometimes even suddenly, to large or single-parent families, who have difficulty making it to the end of the month, as well as elderly people or people who unfortunately live regularly on the margins of society.
Furthermore, people often find themselves faced with a real estate market that offers too expensive housing.
Therefore, projects aimed at helping those in greatest need and redeveloping places for the community are welcome.
News from Sicily 2022-06-24 06:31:00